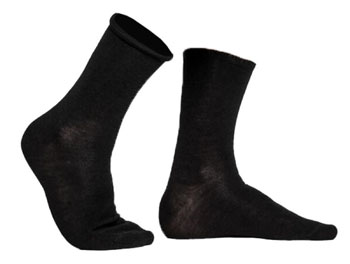 $ 11.21 US
Model: | MSRP: $ 14.95 US
CLOSEOUT PRICING!
The Primus Merino Socks use a superior merino wool blend from Schoeller. They're Superwash treated so that they stay soft longer and maximize the natural antibacterial and anti-odor properties of the merino wool.
Why Merino Wool?
Trapped against your skin, perspiration can leave you chilled or damp no matter how well your boots fend off snow and rain.
For optimal comfort outdoors, your socks should be made of merino wool. Rather than absorbing moisture, merino wool transports (or wicks) perspiration away from your skin and disperses it on the outer surface where it can evaporate. The result: you stay drier even when you sweat, and your sock dries quickly afterwards.
Fit:
True to size
Sizing Recommendation:
Order your usual size
Material:
65% Merino 200g/mē Superwash ANTB
Sizing:
4-13 (36 - 48)
Features
Comfortable, itch-free design
Naturally anti-microbial
Moisture-wicking
Quick drying
Odor resistant
Perfect for high-intensity activity
400121-001-010
400121-001-013
400121-001-006