TOBE Primus Merino Base Layer Shirt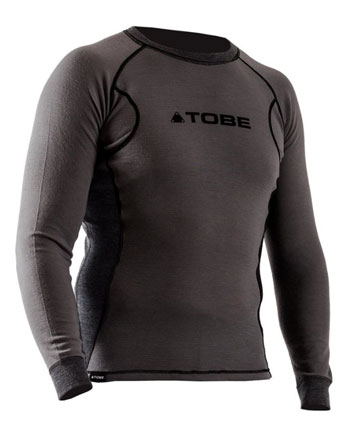 $ 39.97 US
Model: 410121- | MSRP: $ 79.95 US
CLOSEOUT PRICING!
For optimal comfort outdoors, your base layer should be made of merino wool. Rather than absorbing moisture, merino wool transports (or wicks) perspiration away from your skin and disperses it on the outer surface where it can evaporate. The result: you stay drier even when you sweat, and your base layer dries quickly afterwards.
Keeping dry is important for maintaining a cool body temperature in the summer and avoiding hypothermia in the winter. Merino wool is a high-performance material that excels during activities with fluctuating periods of high and low intensity. Cotton is not.
If you?ve ever worn a cotton T-shirt under your raincoat while hiking, you probably remember feeling wet and clammy, even though you weren't getting wet from the rain itself. Cotton is an example of a fabric that retains perspiration and can leave you vulnerable to unwanted chills.
What does a base layer do?
More than any other layer, the base layer helps regulate your body temperature by moving perspiration away from your skin. Trapped inside your clothing, perspiration can leave you chilled or damp no matter how well your shell layer fends off rain and snow.
Fit:
True to size
Sizing Recommendation:
Order your usual size
Material:
70% Merino 430g/mē
Sizing:
2XS - 2XL (Unisex)
Features
Comfortable, itch-free design
Naturally anti-microbial
Moisture-wicking
Quick drying
Odor resistant
Perfect for high-intensity activity
Chest logo
410121-006-002
410121-006-003
410121-006-004
410121-006-005
410121-006-006
410121-006-007
410121-006-001