Ortovox Avalanche Transciever Diract Voice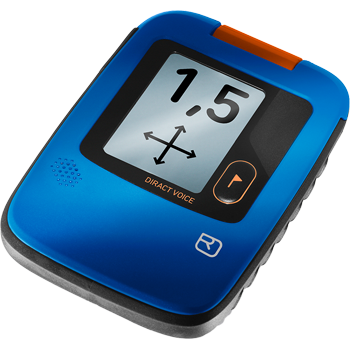 Free U.S. Shipping
$ 450.00 US
Model: 11410
A clear leader
Intuitive, compact, 3-antenna avalanche transceiver with voice navigation
Highlights:
Talks: Navigation through clear spoken instructions
Supports: Extremely intuitive operation helps gain life-saving seconds
Protects: Uses Smart Antenna technology to ensure you are found more quickly
ORTOVOX is setting out on a new, innovate path: The DIRACT VOICE is the world's first avalanche transceiver with integrated voice navigation and will reliably and quickly guide you to your buried companion in an emergency.
Clear, simple spoken instructions tell you what to do in every phase of your search and keep things calm when your partner's survival is of the utmost importance. The display is exceptionally stable from first reception, which reduces stress in an emergency situation and helps speed up the search. The three-antenna device comes equipped with Smart-Antenna Technology, which analyzes the device's location in the avalanche and automatically switches to the best transmitting antenna. This means you get up to double the range and will be found more quickly!
Thanks to its streamlined, logical design, the DIRACT VOICE is intuitive and easy to use, because using just one button you can quickly flag burial victims or switch to standby mode. Secondary avalanche protection automatically switches from search-and-standby mode to transmit mode to guarantee the searcher full protection. Even in extreme light conditions, the full-graphic, extra-large screen is easy to read and, thanks to clear instructions and a 360-degree real-time display, ensures intuitive user guidance in stressful situations.
This handy avalanche transceiver weighs in at just 210 grams, can be held securely when wearing gloves thanks to its rubberized grip zone, and fits easily into a hip pocket if it isn't being worn in the quick-access carrying system which automatically pushes out the avalanche transceiver when unzipped. This way, the DIRACT VOICE is always quickly and safely to hand and instantly ready to use. As a backup, the RECCOŽ reflector integrated in the carrying system further increases your chances of being found.
The DIRACT VOICE comes with a rechargeable low-temperature battery that is especially long-lasting and environmentally friendly. Even at -20°C, the low-temperature battery provides a reliable power supply and, unlike normal batteries, it will not leak.
Thanks to the free ORTOVOX APP (Apple iOS & Android) you can get automatic software updates, extend your warranty by five years, and watch helpful video tutorials.
Product features
Clear speech navigation (DE, EN, FR, IT, ES, NOR, SV, CZ, NL)
No. of antennas: 3
Number of avalanche victims: 4
Rechargeable lithium ion battery
Dimensions (in mm): 79 x 120 x 23
Bluetooth
Waterproof (EN 300718)
Weight / carrying system: 210 g/ 80 g
Warranty: 5 years with registration
Flagging function
Search strip width: max. 50 m
Stable display from first reception
Display: fully graphic 34mm x 45mm
360° real-time display
Visual and acoustic support in fine search
Group check
Smart-Antenna-Technology
Autom. switchover in case of a secondary avalanche
Recco Reflector Inside
Permanent self-testing and standby mode