Klim Adventure Rally Air Moto Pant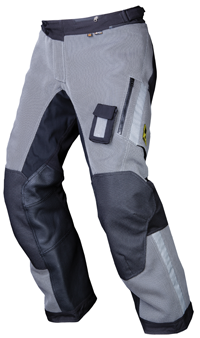 Free U.S. Shipping
$ 360.00 US
Model: 5096-000 | MSRP: $ 899.99 US
CLOSEOUT PRICING!
The KLIM® Adventure Rally Air Pant redefines what fully-ventilated adventure gear can stand up to. Its high marks in abrasion and cut/tear resistance and impressive use of the new D3O® XERGO® line of integrated armor pieces ensures hot, humid and brutally abusive conditions have been tamed. The Adventure Rally Air Pant maintains high-end KLIM® pant features as well. Premium leather inner knees, reflective mesh materials, SuperFabric® slide zones on the knees and a sleek, simply adjustable boot cuff.

EXTERIOR FEATURES:
HEAVY DUTY KEVLAR® MESH CONSTRUCTION WITH AMAZING TEAR AND ABRASION RESISTANCE
KEVLAR® STRETCH MESH CROTCH FOR FULL RANGE OF MOTION KEVLAR® SEAT PANEL
LARGE PANELS OF SUPERFABRIC® MATERAL AT KNEES FOR BETTER SLIDING ABRASION RESISTANCE
REFLECTIVE MESH MATERIAL PLACEMENT ON THIGHS AND LOWER LEGS FOR INCREASED LOW-LIGHT AND DARK-CONDITIONS VISIBILITY
PREMIUM LEATHER INSIDE KNEES AND INSIDE LOWER LEG PROVIDE EXCELLENT DURABILITY AND HEAT RESISTANCE INTEGRATED ARMOR SYSTEM
D3O® XERGO KNEE AND HIP PIECES (MEET AND EXCEED NEWEST PROPOSED CE LEVEL 2 LIMB PROTECTOR STANDARDS [PREN1621-1:2011])
PORON® XRD™ EXTREME IMPACT FOAM COXIC (TAILBONE) PAD
DOW CORNING S7-005 DEFLEXION™ON TOP OF THIGHS FOR PROTECTION AND BREATHABILITY CARGO, COMFORT AND INTERNALS
TWO EXTERNAL POCKETS: 2 LARGE THIGH POCKETS WITH HORIZONTAL ZIPPERS FOR EASY ACCESS WHILE SEATED
ONE HIDDEN MONEY POCKET IN WAIST
REMOVABLE SPOT POCKET ON LEFT THIGH FOR PROPER POSITION OF SPOT ANTENNA WHEN SEATED FOR BETTER TRACKING ABILITY
MOISTURE-WICKING MESH INTERNAL LINER
500D CORDURA® INNER LOWER CUFF BOOT BUCKLE GUARD
INTEGRATED SUSPENDER ATTACHMENT POINTS
FULL CIRCUMFERENCE JACKET-TO-PANTS ZIP
HEAVY DUTY YKK® ZIPPERS USED THROUGHOUT
SPACER MESH AT KNEES FOR BREATHABILITY AND COMFORT
ADJUSTABLE OVER-THE-BOOT CUFF CONSTRUCTION VIA VELCRO® BRAND FASTENERS CLOSURE KEEPS PANTS SECURELY IN PLACE AND KEEPS WEATHER OUT OF BOOTS
ADJUSTABLE CUFF DESIGN ALLOWS PANT TO BE OPEN ENOUGH TO ADJUST BOOT AND KNEE GUARDS/BRACES AND PROVIDEDS LARGE RANGE OF ADJUSTMENT TO FIT THE WIDEST RANGE OF BOOT STYLES/SIZES.