DSG Women's Heated Socks 5V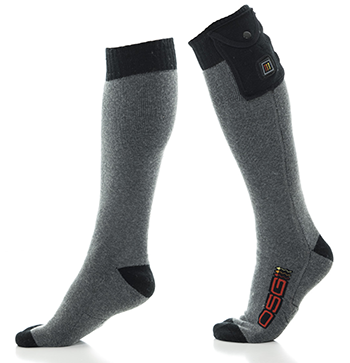 Free U.S. Shipping
$ 102.00 US
Model: | MSRP: $ 120.00 US
DSG Winter Sale!
NOTE: Product looks slightly different than the product pictures displayed here.
The DSG women's heated socks are the perfect blend of quality and comfort. These socks come with two super powerful ActionHeat 5V Power Banks (3000mAh). The thin profile batteries fit into a small snap pocket. These heated socks warm from the bottom up with lightweight, flexible panels so you can feel warmth where you need it most.
Power Up - Charge the provided 5-Volt batteries.
Plug-In - Connect the batteries to the USB cords located in the pocket on the top of the sock.
Turn On - Press and hold the touch-button control on the sock for 3 seconds. Press button again to cycle through the heat settings.
Estimated Heating Times:
HEAT BLAST (Red): 150F - 3+ Hours
Medium (White): 130F - 4+ Hours
Low (Blue): 110F - 5+ Hours
NOTE: Recommended to use low or medium settings. Heat Blast should not be used for more than 5 minutes at a time.
Material Contents:
Material Content: 21% wool/47% Acrylic/15% Nylon/12% Polyester/3% Spandex/2% Rubber
Ultra-fine carbon fiber heating panels.
Includes:
(2) 5 Volt Rechargeable Battery Heated Wool Blend Socks w/ Heated Toes
(2) 3000mAh Lithium-Polymer Power Banks (Batteries)
(1) 24" Dual Micro-USB Charging Cord
Instruction Manual
Heated Sock Features
Bottom of the feet heating
Powered by (2) 3000mAh Power Banks
Touch-Button temperature control
3 Heat level settings
Heats up to 150°F
Lasts up to 5 hours
Premium wool blend
Machine washable
True womens fit
Internal USB connection cord
Power bank pocket with snap button closure
24 Dual Micro-USB charging cable
Sock Size Chart - US Women's Shoe Size
6.0 - 9.5 - SM/MD
10.0 - 13.0 - LG/XL
Notes:
Compatible with any 1amp power banks
When not in use, unplug power banks from socks to preserve battery life
Charge power banks periodically throughout the year to ensure maximum lifespan
Caution: To reduce the risk of injury or misuse of this item, please do not operate this product before reading and understanding all enclosed warnings and instructions.