Choko Women's Powder Nylon Snowmobile Jacket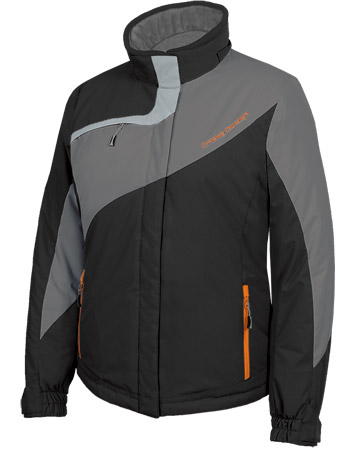 Free U.S. Shipping
$ 149.95 US
Model: 186120-
LADIES NYLON JACKETS WITH ZIP-OUT HOOD
320 Nylon Taslan combined with Suppratech 400d waterproof breathable Oxford nylon with TeflonŽ protective finish technically coated for a softer finish.
Lining/Insulation:
Weather-Tec system: 180 gr. (6.5 oz.) of Ultra Soft polyfill combined with 400 gr. (14oz.) Poly fleece, a thermal factor of 580 gr. (20.5 oz.)
Functional features:
Reflective trim for increased safety.
YKK zippers.
Adjustable fleece lined collar
Insulated detachable hood.
Dual storm flap.
Chest pocket.
2 zippered outer shell pockets lined with waterproofed brushed cotton lining.
Inner pockets: mesh pocket, zip pocket and Technology pocket.
Shaped sleeves with elasticized cuffs with Velcro adjustments.
Adjustable wind-guard cummerbund.
Adjustable elasticized wind-stopper cord with pulleys at hips.
18612-H80-XS
186120-H80-XS
18612-H80-S
186120-H80-S
18612-H80-M
186120-H80-M
18612-H80-L
186120-H80-L
18612-H80-XL
186120-H80-XL
18612-H80-XXL
186120-H80-XXL
18612-H80-XXXL
186120-H80-XXXL
18612-000-XS
186120-000-XS
18612-000-S
186120-000-S
18612-000-M
186120-000-M
18612-000-L
186120-000-L
18612-000-XL
186120-000-XL
18612-000-XXL
186120-000-XXL
18612-000-XXXL
186120-000-XXXL
18612-900-XS
186120-900-XS
18612-900-S
186120-900-S
18612-900-M
186120-900-M
18612-900-L
186120-900-L
18612-900-XL
186120-900-XL
18612-900-XXL
186120-900-XXL
18612-900-XXXL
186120-900-XXXL
18612-600-XS
186120-600-XS
18612-600-S
186120-600-S
18612-600-M
186120-600-M
18612-600-L
186120-600-L
18612-600-XL
186120-600-XL
18612-600-XXL
186120-600-XXL
18612-600-XXXL
186120-600-XXXL
18612-3DK-XS
186120-3DK-XS
18612-3DK-S
186120-3DK-S
18612-3DK-M
186120-3DK-M
18612-3DK-L
186120-3DK-L
18612-3DK-XL
186120-3DK-XL
18612-3DK-XXL
186120-3DK-XXL
18612-3DK-XXXL
186120-3DK-XXXL
18612-BRG-XS
186120-BRG-XS
18612-BRG-S
186120-BRG-S
18612-BRG-M
186120-BRG-M
18612-BRG-L
186120-BRG-L
18612-BRG-XL
186120-BRG-XL
18612-BRG-XXL
186120-BRG-XXL
18612-BRG-XXXL
186120-BRG-XXXL