Choko Core 2-Piece Snowmobile Suit w/ Quatro Pant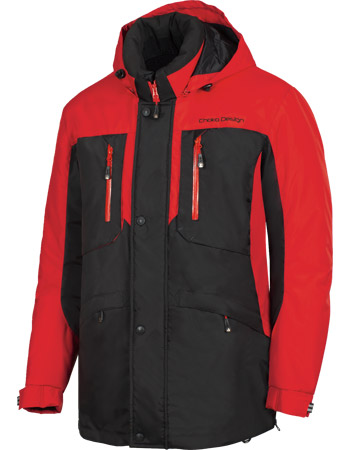 Free U.S. Shipping
$ 349.95 US
Model: 195820-
Shell:
SUPPRATECH 400D waterproof breathable oxford nylon with Teflon protective finish technically coated for a softer touch.

Lining/Insulation:
Weather-Tec System: 100% Nylon stitched to 180 gr. (6.5oz.) Ultra soft polyfill and 400 gr. (14 oz.) Micro-Tec fleece for a thermal factor of 580 gr. (20.5oz.)

Functional features:
Elongated Parka
bottom side zips keep jacket from riding up while seated.
Reflective trim for increased safety.
YKK zippers
Dual storm flap.
Fleece lined adjustable collar
Detachable lined hood.
Cuffs with Velcro adjustments.
Shaped sleeves and strategically shaped elongated back.
Adjustable wind-guard cummerbund.
Adjustable elasticized wind-stopper cord with pulleys at hips.
4 outer shell pockets:
2 zippered pockets lined with waterproofed brushed cotton for durability.
2 waterproof zippered cargo pockets on chest. 4 inner pockets:
2 double map pocket.
1 Technology Pocket.
1 zip pocket.
195820-000-S
195820-000-M
195820-000-L
195820-000-XL
195820-000-XXL
195820-000-XXXL
195820-BRG-S
195820-BRG-M
195820-BRG-L
195820-BRG-XL
195820-BRG-XXL
195820-BRG-XXXL
195820-SQ0-S
195820-SQ0-M
195820-SQ0-L
195820-SQ0-XL
195820-SQ0-XXL
195820-SQ0-XXXL
195820-100-S
195820-100-M
195820-100-L
195820-100-XL
195820-100-XXL
195820-100-XXXL
195820-200-S
195820-200-M
195820-200-L
195820-200-XL
195820-200-XXL
195820-200-XXXL
195820-DOO-S
195820-DOO-M
195820-DOO-L
195820-DOO-XL
195820-DOO-XXL
195820-DOO-XXXL
195820-900-S
195820-900-M
195820-900-L
195820-900-XL
195820-900-XXL
195820-900-XXXL
195820-SQ2-S
195820-SQ2-M
195820-SQ2-L
195820-SQ2-XL
195820-SQ2-XXL
195820-SQ2-XXXL
195820-SQ1-S
195820-SQ1-M
195820-SQ1-L
195820-SQ1-XL
195820-SQ1-XXL
195820-SQ1-XXXL