509 Kingpin Offroad Goggle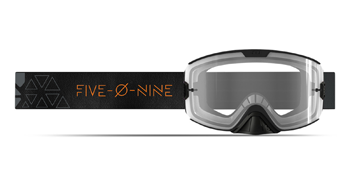 One of our most popular styles, the 509 Kingpin Offroad Goggle offers the best deal in dirt. Its value-packed performance combines our quick-change lens system with a rugged single pane lens that maximizes clarity with high-end anti-fog and anti-scratch coatings, 100% UV protection, and tear-off compatibility. Like all our goggles, the Kingpin offers a perfect zero-gap fit when paired with any 509 Offroad Helmet.
Features:
Quick-change lens technology
Single pane dirt lens with tear off posts
Premium anti-fog and anti-scratch coatings
Contoured triple layer foam
Removable nose piece
Silicon lined premium strap
Kingpin Offroad Goggle Lens Conditions
Chrome Mirror Tint - Partly Sunny
Clear Lens - Cloudy, Low Light
Fire Mirror Tint - Cloudy, Low Light
Smoke Tint - Sunny
Yellow Tint - Partly Sunny
QUICK-CHANGE LENS TECHNOLOGY
Make quick work of a lens swap. Simply rotate the left & right mounts 90 degrees clockwise and remove the lens from the frame. It's that simple.
F02003500-000-201
F02003500-000-401
F02003500-000-003