509 Kingpin Fuzion Offroad Dirt Goggle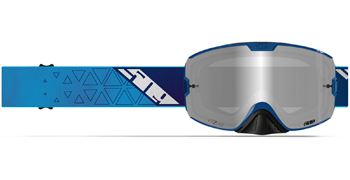 Kingpin Fuzion goggles are new to the 509 Offroad collection. In fact, this technology is new to the offroad industry. Built for the most grueling Single Track riding and all conditions, all terrain adventures.
unique fuZion technology / FUZION technology bonds an Antifog lens material inside the PC lens, providing premium Antifog technology. Premium Antifog capability is 5x better and longer lasting than traditional PC lens technology. This single pane 1.4mm PC lens is thicker and more impact resistant than a conventional PC lens.
quick-change lens technology / Make quick work of a lens swap. Simply rotate the left & right mounts 90 degrees clockwise and remove the lens from the frame. Its that simple.
Features
FUZION lens TECHNOLOGY
QUICK CHANGE LENS TECHNOLOGY
aluminum tear off posts
CONTOURED TRIPLE LAYER FOAM
REMOVABLE NOSE MASK
SILICON LINED PREMIUM STRAP
F02000600-000-201
F02000600-000-401
F02000600-000-001
F02000600-000-002
F02000600-000-801